AI & IoT-enabled marketplace to help smallholder farmers in Africa practice precision agriculture,
securing yield amidst rapidly changing climate conditions.
To comply with my non-disclosure agreement, I have omitted confidential information in this case study.
All information in this case study is my own and does not reflect views of Sunculture.
---
In 2019, Sunculture, a revolutionary solar pump startup from Kenya had a new idea to expand their business. In addition to selling IoT-enabled solar pumps, Sunculture further integrates their hardware with sensors and an AI companion app, opening up the possibility of agriculture advisory and digital marketplace with BNPL (Buy Now Pay Later) financing options. The goal was to increase farmers' yield and growth both operationally and economically, all within Sunculture's business ecosystem.
Moderating focus group discussions with local farmers' association.

My role: Design Lead
I was hired as a design lead intern for one summer between my first and second year of my masters' study. Together with a fellow intern in business development, I
put together the research team
from the ground-up,
trained the team with design thinking
methods, and
led the effort of requirements gathering and design research study
to contextualize and design AgOptimized's value proposition and user needs.
I also worked with the product manager and interfaced directly with stakeholders in the farming ecosystem in Kenya, ranging from industrial farming companies to international development/social impact consulting whose interest is aligned with our product vision.
Research goals and impact
By spending time with farmers and outgrowers in the field,
we learned about their pain points and behaviors in knowledge gain, market practices, and appetite in credit financing.
From those insights, we evaluated AgOptimized's value propositions in the market and delivered design + UX guidelines, customer archetypes, and launch strategy (such as pre-installed smartphone bundling as part of the onboarding process for customers).
Our research was pivotal for the product roadmap. We closed the pilot result with 10x revenue growth and 97% repayment rate, leading AgOptimized to raise seed capital, got featured by Microsoft AI for Earth partnership, and is now launched as MITI -Financing the Next Billion.
---
Initial diagnose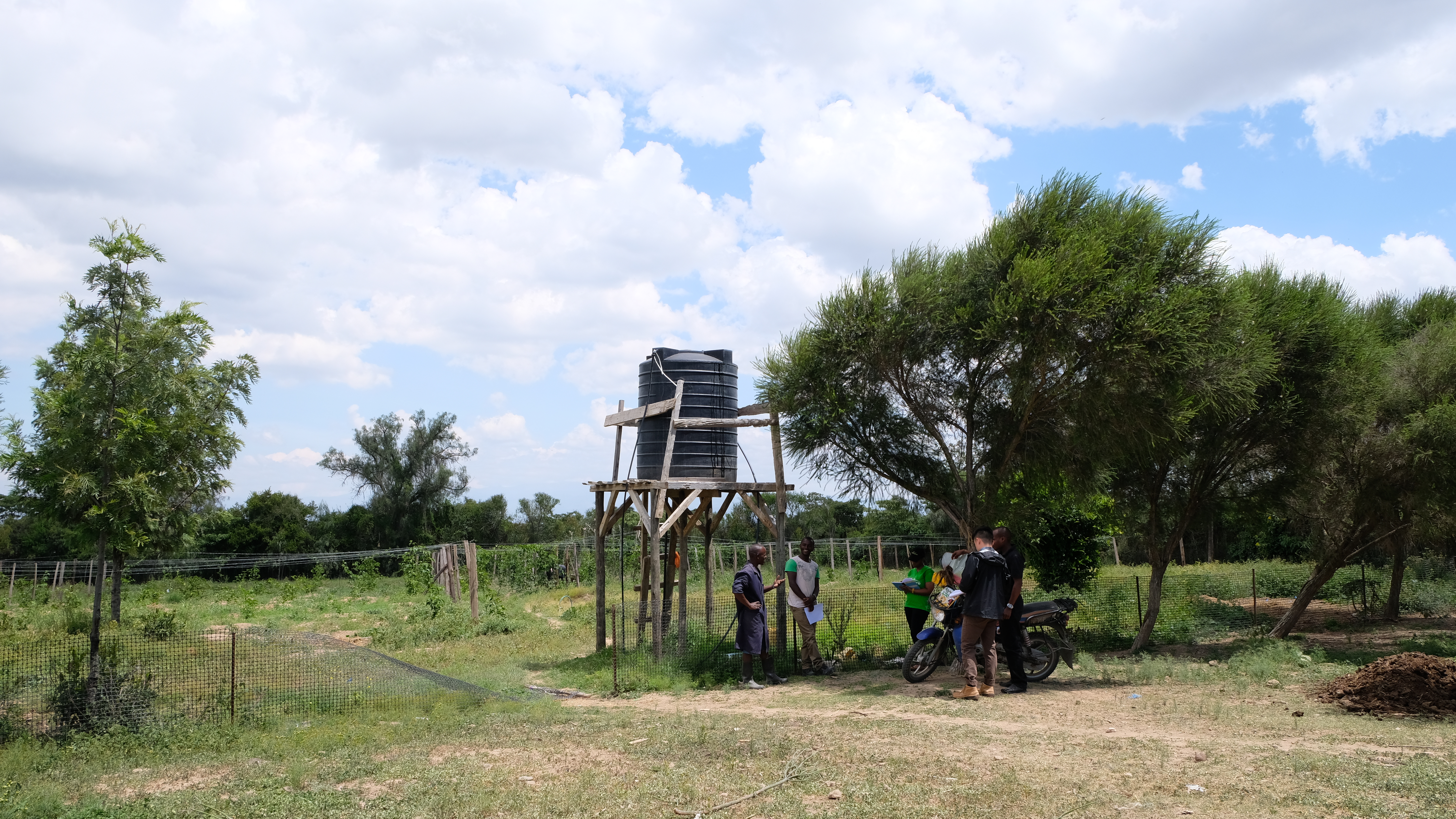 Most of Sunculture's smallholder farmers use solar pumps where they don't have access to grid electricity.
To start asking the right questions, I did a deep dive together with the CTO and product manager to diagnose areas that would be worthwhile to do a research on. First we looked at Sunculture's solar pump customer base. Then we looked specifically at their water usage;
we noticed that there are some small % users who kept on their power and pumped much more water compared with others, making them "power users".

After talking to the customer success and sales team (who understands who these people are) we arrived to our initial assumption as a baseline: customers with relatively higher pump usage are
looking to grow
their farm yield, and
could potentially be more receptive
to new solutions, such as AgOptimized.
From the start, I developed the research study and field planning, accounting resources and constraints including proximity, accessibility, and time, then envisioning the best team to execute the project.
Planning and team building
The stellar team! business designer, agronomist, design researcher, irrigation engineer, translator, driver
I have never traveled to the Africa continent before, nor did any work in Agriculture, thus I definitely needed to plan carefully beforehand. I had field research skills in my toolkit, however I completed the following steps to ensure a solid foundation:
Domain exploration and pre-research work
Before traveling to Kenya, I spent the first two weeks remotely planning the research with our CTO/co-founder and product manager. I dove deep in literature review from research reports and previous work to gain my baseline knowledge of smallholder farming, digitalization in Kenya, and AI in Agriculture, and bounced off questions/meetings with the engineering team.
Setting up the table with pop-up studio
I understand that my thinking will not be as deep as the local people themselves in their environment. Since understanding local context and nuances is extremely important, I asked for help from the co-founder and CTO who understands the company well, and we handpicked the team for this project from our office in Nairobi. Our team had a business designer, agronomist, irrigation engineer, and a driver / translator.
To make sure we're doing best practices of data collection,
I set up a pop-up studio in our "safe house" in Nanyuki and trained design thinking to our teammates.
Camaraderie is our essential fuel; we bond and travel across Kenya together for 2 months using our four-wheel-drive truck, and had a lot of fun together.
Research methods
Writing down the post-field day "data dump" in our pop-up studio, and our project timeline.
Our overall goal is to get from idea stage into product stage. For consistency in product vision and direction, the future product development team would need deeper contextual understanding on farmers' needs. At the same time, the engineering was not ready to test since the data, models, and hardware were still in early phase.
There were no visible precedents in our product, thus a solid foundation of research was needed.
After we mapped out the main interests and touchpoints of AgOptimized, we decided to focus on these areas:
knowledge gain & delivery
(How do farmers learn and get their knowledge? who do they trust? what's the information flow look like?...)
Agronomy practices
(Where do they get their input? how do they deal with pests and other nuisances? how do they decide?...)
Appetite for credit financing
(How are they managing their cashflow? how do they finance projects? what are their priorities?...)
To answer these questions, I decided the course of action with these research methods:
1. Start with qualitative to build proper context and trust
Start our field work with immersion trip and contextual inquiry, come with open mind and fresh eyes and try to understand what's the reality on the ground while building relationship to farmers.
2.Select and recruit participants to present prototypes and concept models
After we grasp our foundational understanding, we will revisit some of the participants to give feedback for AgOptimized, and follow up with more formal technique such as structured interview, card sorting, user testing, surveys, etc.
Very quickly, we learned on what worked and what doesn't, and I adapted our approaches as we go. We did this by doing regular check-ins, rescheduling, and reprioritize our questions based on new insights from the field.
Execution
Typical field day, plus some of "knowledge delivery concepts" prototypes that we tested.

Through focus groups, card sorting, interviews, and prototype testing, we further talked to farmers and companies to understand how to design AgOptimized's farming advisory to each respective end users.
Over 5 weeks, our team managed to gathered data from these locations in nationwide Kenya:
2 counties: Laikipia, Meru

3 locations:Nanyuki, Matanya,Timau, Meru

42 farmers interviewed + 10 group discussions

60+ farmers approached

4 contract companies (outgrowers) connected
During this stage,
I designed discussion guides, paper and digital prototypes, and moderated discussions.
We were always iterating and updating our schedule as we go and report interesting findings back to the CTO.
---

After we finished data collection, I co-led the synthesis with our business designer and together we distill our findings into design opportunity areas with recommendations on how do we proceed and execute. We put together our findings in a comprehensive report, and presented to our CTO/co-founder, along with the rest of the product development team (designers, engineers, ...).
We packed our insights as design principles, customer archetypes, and launch strategy.
1. Design principles
I designed this interaction model of mobile application UX and gathered feedback on usability, content, and information access.

I enhanced the value proposition into more tangible product vision with practical design guidelines and principles for next product iteration. For example, here's one quick summary of the design principle that I wrote:
Need: Practical, action-based solutions to mitigate problems
For mobile-based advisory, farmers find shorter, practical recommendations to be more useful vs. comprehensive guidelines that cover all topics in a crop harvest cycle. Farmers view AgOptimized's advisory as a complementary solution, and will double check before making any decisions.
Design: Immediate, brief actions
Delivering brief, actionable, instructional advisory will help farmers on current/ upcoming problems. AgOptimized's advisory pieces could serve to deliver "high immediate priority" info that enables them to act accordingly. From our test, the card stack model with quick video content had better engagement than others.
2. Customer archetypes
Sample page for one of our customer archetypes, nicknamed "the climber". Actual names are anonymized for privacy.

We also synthesized our findings into 3 different farmer archetypes, a classification based on their operational mindsets and characteristics on our research interests. On each archetype, we put together their key findings, insights, channels, and trust circles.
With this approach, I hoped the product team would find this useful when designing with their users in mind. We put together an in-depth guide along with appropriate quotes from our conversation as referenced data point.
3. Marketplace go-to-market and launch strategy
AgOptimized is now soft-launched as MITI, financing the next billion.

With many moving parts in the system, AgOptimized requires a careful execution to launch.
We found that digital literacy is important in adopting farming advisory, and we could tap into new customers using e-commerce as the first entry point, then introducing the farming advisory in the future, as the hardware product becomes more sophisticated and reliable.
Smartphone bundling
As part of AgOptimized, every farmer will receive a standard smartphone and data package on AO credit. This eliminates the technology access barrier to both marketplace and advisory.
We tested two phone products with different quality and price points. We also tested payment schedule weights (equal installments or backloaded). The preference was for equal installments.
Sell consumer goods and productive assets
When asked to picked items from a catalog featuring both agriculture goods and consumer goods, farmers leaned heavily towards productive agriculture assets. Consumer goods also were chosen, and can be fit into 2 general (sometime overlapping) categories.
---
This was my first formal experience as a design lead, and I learned a lot during the process. I owe a big thank you to my CTO, Charlie and product manager, Andrew who both mentored me during the whole process and helped me settle in Kenya, and to the rest of the team that had given me trust to lead the project despite it was my first time working with them: Tom, Alex, Sophie, Jimmy, and Benson.


Having to co-led a research project with a person who has a business background was really valuable. I started to empathize and see things more clearly from business perspective. It helped me to better balance my view and weight my own opinions in making design-business decisions or risk tradeoffs.


I always feel strongly about ensuring appropriate context to make direct impact with tech-based solutions, and during the whole process of this project, I constantly being reminded of the importance of listening to people, especially when your users could easily be put at risk if your product fails to deliver its purpose.


Had a ton of fun exploring and traveling in Kenya! a beautiful country with warm people, and I'd love to visit again someday. Seeing how difficult yet essential to get a sustainable solution right sparked my interest in embedding design for sustainability for my future work.
---

Hope you enjoy reading this case study.
If you are interested in learning more about the design process, please contact me.