Satellite-based Vessel Monitoring System for Indonesian waters
design research, strategy, ethnography, stakeholder engagement, social impact, sustainable development, fishery
Summary
A public-private partnership project. Researched foundational design principles and rapidly prototyped new ideas and solutions to design satellite-based Vessel Monitoring System (VMS) services for Indonesia's $20 billion+ fishery sector to increase safety at sea, combat illegal fishing, and promoting sustainable fishing practice.
Team
Ravi Chhatpar (Project director), Markus Boelter (Co-lead), Chum Wong (Co-lead), Daniel Watson (Designer), Delia Di Filippantonio (Designer), Citra Pramana (Design researcher), Hanif Wicaksono (Design researcher)
Timeline

July 2017 - October 2017 (3.5 months)
How my work influenced the successful end product:

Reframed product vision, user needs, and relevant opportunity areas for the market

Conducted 30+ intercept and in-depth interviews with fishers, local authorities, and industry managers

Presented and contextualized research findings to both business and product stakeholders

Facilitated co-creation workshop and generated 40+ feature ideas to validate as MVP

Validated and tested 20+ feature concepts and usage scenarios with end users

Co-authored two research reports with design guidelines and customer archetypes
Project impact and outcome

---
Process

During intensive 3 months of the project, together with the team I planned, developed, synthesized, and tested design concepts. We generated personas, recommended opportunity areas, and initial MVP definition with feature prioritizations. I also co-authored two research reports, which packaged and cited in a joint white paper for a public-private report by UK Space Agency.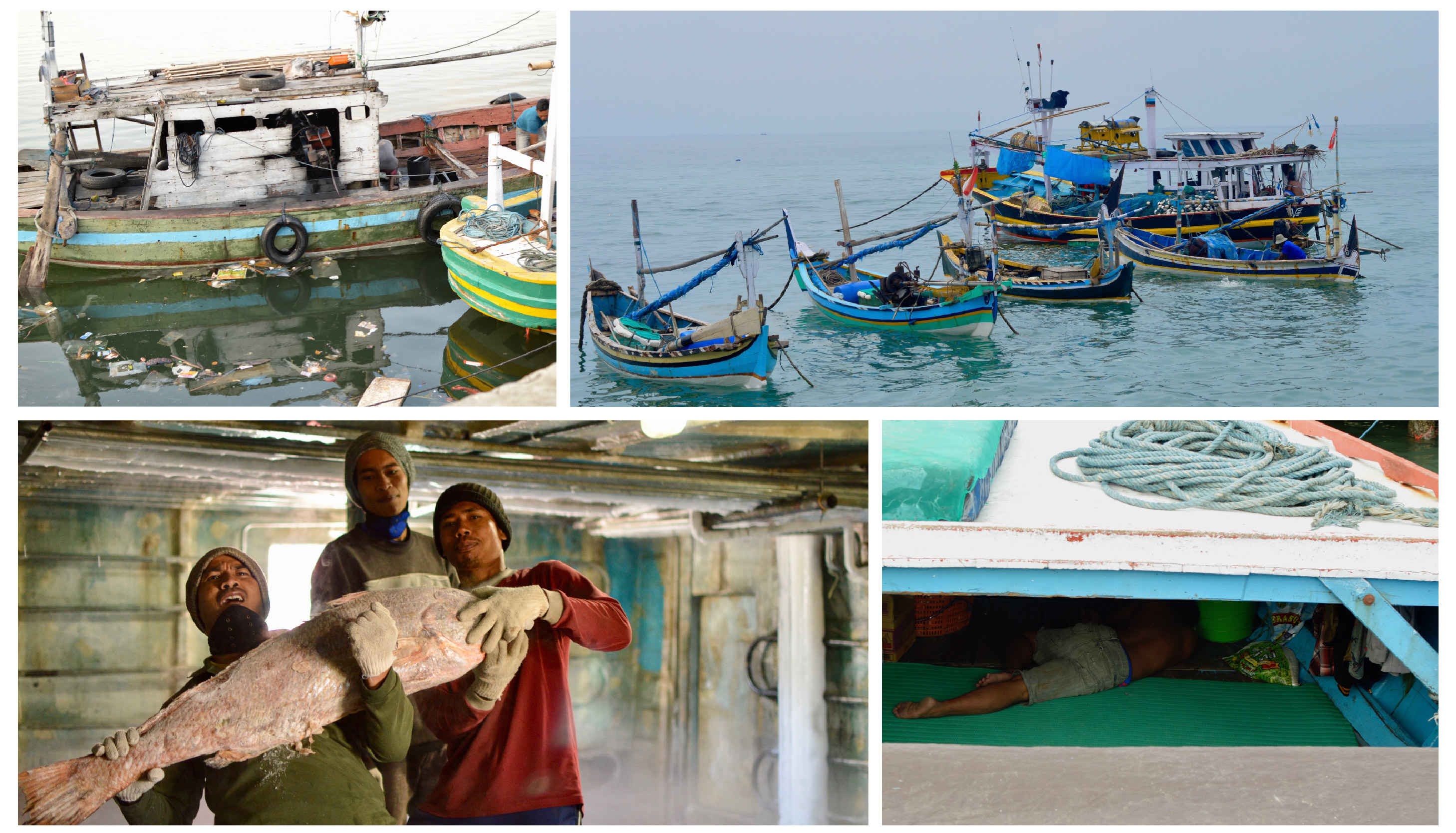 Snapshot of Indonesia's fishing ecosystem. Photos taken during fieldwork.
Problem: Illegal fishing in Indonesia waters

In Indonesia, estimated economic losses of up to US$3 billion a year are attributed to illegal, unreported, and unregulated fishing. With nearly 55,000 km of coastline, it is extremely costly to control vessel movements in Indonesian waters.

Vessel Monitoring System, a standard tool for fisheries monitoring and control is already put in place for international, industrial vessels; however the integration of applications specifically designed to incentivise users through improved safety and higher economic productivity is a novel development.

Moreover, many members of Indonesian fishing community are facing a large gap in digital divide, not knowledgeable about modern technologies and are presently poorly served by on-sea communications providers.

The three levels of thinking in fishing ecosystem. Source: Dalberg
Research question, goals & objectives
As the UK and Indonesian government are expressing interest in to further adopting VMS solution in Indonesia, in partnership with Inmarsat, Indonesia Ministry of Marine Affairs and Fisheries, and Catapult Innovation UK, I joined the team at Dalberg Design and we formulated a design research to test the benefits and challenges of expanding the use of satellite-based VMS to vessels currently not legally required to carry such systems (i.e. vessels under 30 gross tonnage (GT) cargo capacity), improving the policing of illegal fishing and conservation areas and move the industry towards a more sustainable and profitable path.
Vessel Monitoring Sytem architecture. Source: UK Space Agency White paper
---
How might we...


Incentivise fishers through improved safety and higher economic productivity using VMS technology with the result that all parties will benefit from better marine monitoring and enforcement?



Tackles the digital divide that affects Indonesian fishing community - who are not knowledgeable about modern technologies, and presently poorly served by communications providers?
---
Research planning
For data sampling and participant recruitments, since we were tasked to do a foundational research, we started by speaking with broader actors in the ecosystem and immersing ourselves to better understand the relationship between them.

I mapped out and summarized our plan on participant profiles and discussion outlook in the following visuals:
Primary participant profiles and sample recruitment criteria.
Systems investigation
Throughout two rounds of fieldwork trips, 70+ interviews has been done to multiple profiles around Indonesia's fishing ecosystem, with focus on selected topics and areas of interests. During the process, we also identified who are those people and what role do they play at the systems level.
I synthesized and helped designed these two maps as a visual guide:
1) Relationship map: portrays the interactions between roles in Indonesia fisheries, divided into formal relations, personal-trust relations, and a mix of both.
2) Communication map: portrays what, how, and why certain kinds of informations needs to be passed from one to another in the Indonesian fishing ecosystem.
Executing on-site research

In-depth and intercept interviews, card sorting, focus group discussions.
As we uncover insights from the field, we iterated our process and various methods were used. Most of the time I started the conversation with general questions regarding participant's daily basis before talking about in-depth topics, implicitly digging for aspirations and motivations, while also empathizing and analysing their environmental habits. I used multiple probing techniques relevant to participant's socioeconomic background and their level of education.
One of the scenarios that I helped developed for the card sortings exercise.
In the second trip we tested ideas with card sorting to articulate rough concepts help imagining the scenarios of certain features in their natural environments. During this session, multiple scenarios were used to help participants relate to the conceptual feature card and assess its usefulness. I designed the set of cards, along with lo-fi paper prototypes and other stimulus.
Logistics & data treatment
We used the divide and conquer approach for daily interviews. The team is split into two separate locations and by the end of the day we do daily synthesis and planning sessions, data management, and media management to make sure each fieldwork data is captured, treated, and attributed properly.
Synthesis
We started our synthesis progress by sorting out quotes and recalling the insights from our notebooks, recordings, pictures, etc. We also double-checked our data by making phone calls to previous participants for confirmations, and any other touchpoints that could help us determine and confirm the insights & needs that was in our mind using post-it notes and team discussions. After the findings are grasped, we prepared for the next step of the project which is the readout and workshop.
Stakeholder workshop with government officials, clients, and organizations involved.
On top of synthesizing with the team, I was responsible for developing all the collateral designs and logistics for the workshop activities. At the end of each research phases, I also facilitated a co-creation workshop to collaboratively explore what a minimal viable product (MVP) for the VMS could look. The workshop participants included key people from various companies involved in the project, Indonesian government officials, and NGOs in maritime and fishing industry.


Output
Value proposition and design principles

From our first round of design research, we have developed insights from our interventions to enable a transition to sustainable practices, grounded in from our work with fishery communities.


We distilled five opportunity areas we see as critical to enhance their daily practices and benefits: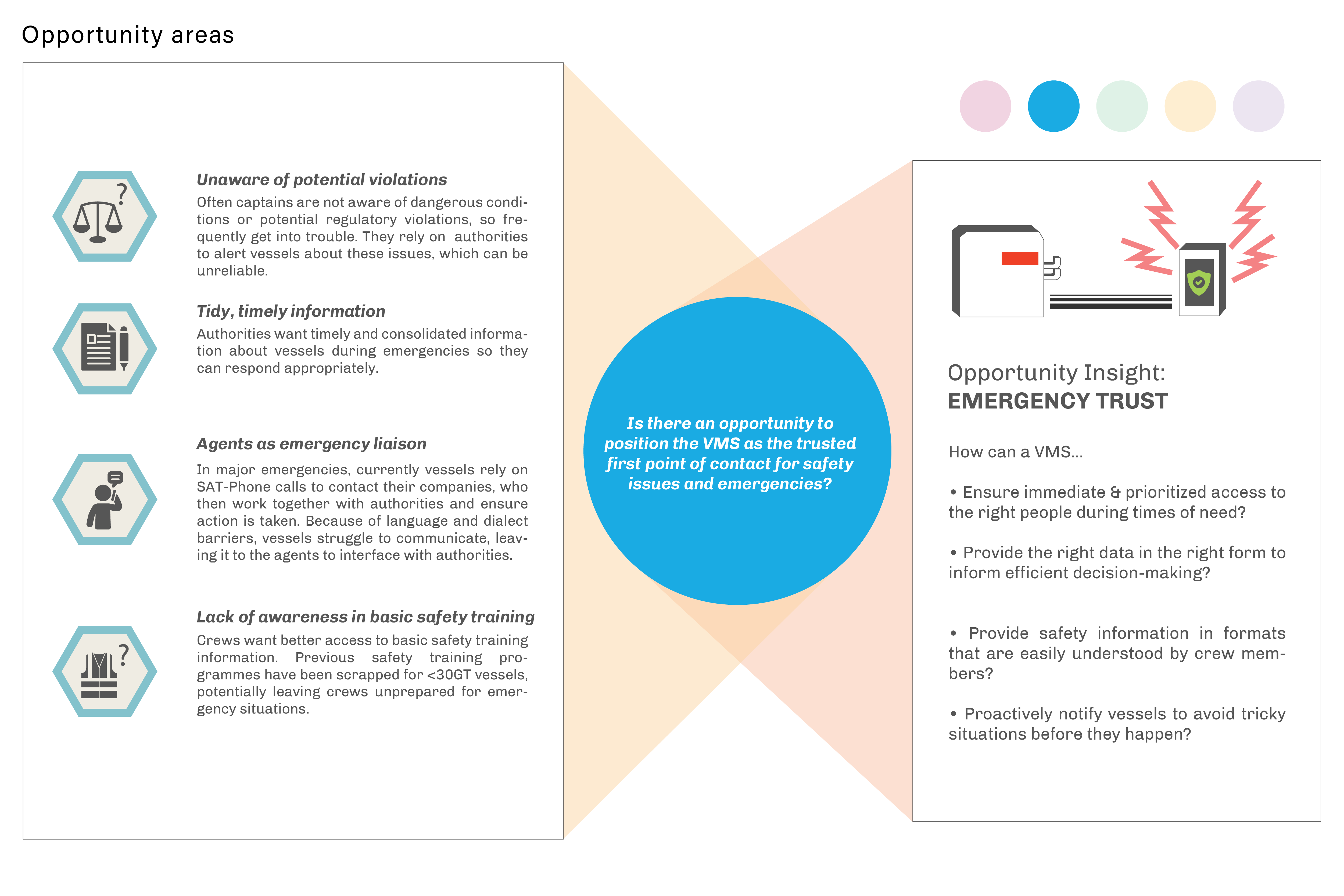 Distilled insights and opportunity areas
1) Enhanced communication: How might we make an opportunity to enable direct, private, and fluid communication across the fishing ecosystem?

2) Emergency communication: How might we position VMS as the trusted first point of contact for safety issues and emergencies?

3) Simplified compliance: How might we streamline administration and regulatory processes?

4) Financial visibility: How might we provide financial visibility to fishers?

5) Emotional wellbeing: How might we create a more satisfying, enjoyable, and personalised experience at sea?

Generating persona

Who are we designing for? since VMS technology is relatively new to our target market, the personas we have created are sitting on the right-hand side of the "traditional-to-early-adopter" spectrum. Besides being open and progressive about new technology, they are also influencers to more traditional thinkers and entities in their fishing communities.



The adoption bell curve, along with people we want to design for.
MVP prioritized features set & persona

These concepts from the workshop have been refined and prioritized, and acted as an input to generate a set of 20+ features grouped into four focus areas. In the second round, we visited Bali and Probolinggo again to further gather user feedback on the initial prioritized MVP and focus areas, along with the archetypal users, presented as personas. One of the persona we created to inform design decisions, and recommended features to prioritize.
Key learnings
Personal reflections
In a public-private research project where many business and authority stakeholders are involved, the research planning stage can be even more exhaustive than usual due to compliances and regulations. Early alignment and engaging stakeholder is key to ensure every meeting is planned ahead of time, resulting in tidy time management.


Switching between interviewing/translating can be challenging at times, especially when I was talking to participants who had limited vocabulary with local language, and I had to translate that into English that somewhat sense for the team to digest and process. This is where card sorting and sketching gets more valuable.


User-centric feature prioritizations doesn't necessarily align with how the product will actually be built. Design researchers' work doesn't stop at handing off the report, following up with product team and participating in pilot testing is pivotal in ensuring a successful launch.


Had a ton of fun and learned a lot about the fishing ecosystem, an invisible yet gigantic industry on our planet. Seeing how hard yet essential to get a sustainable solution right first-hand sparked my interest in embedding design for sustainability for my future work.