2018
Visualizing mobility of tourism: Barcelona
Information design, Data visualization, Technology, Urbanism, Spatial & built environment, Academic, Studio, Design engineering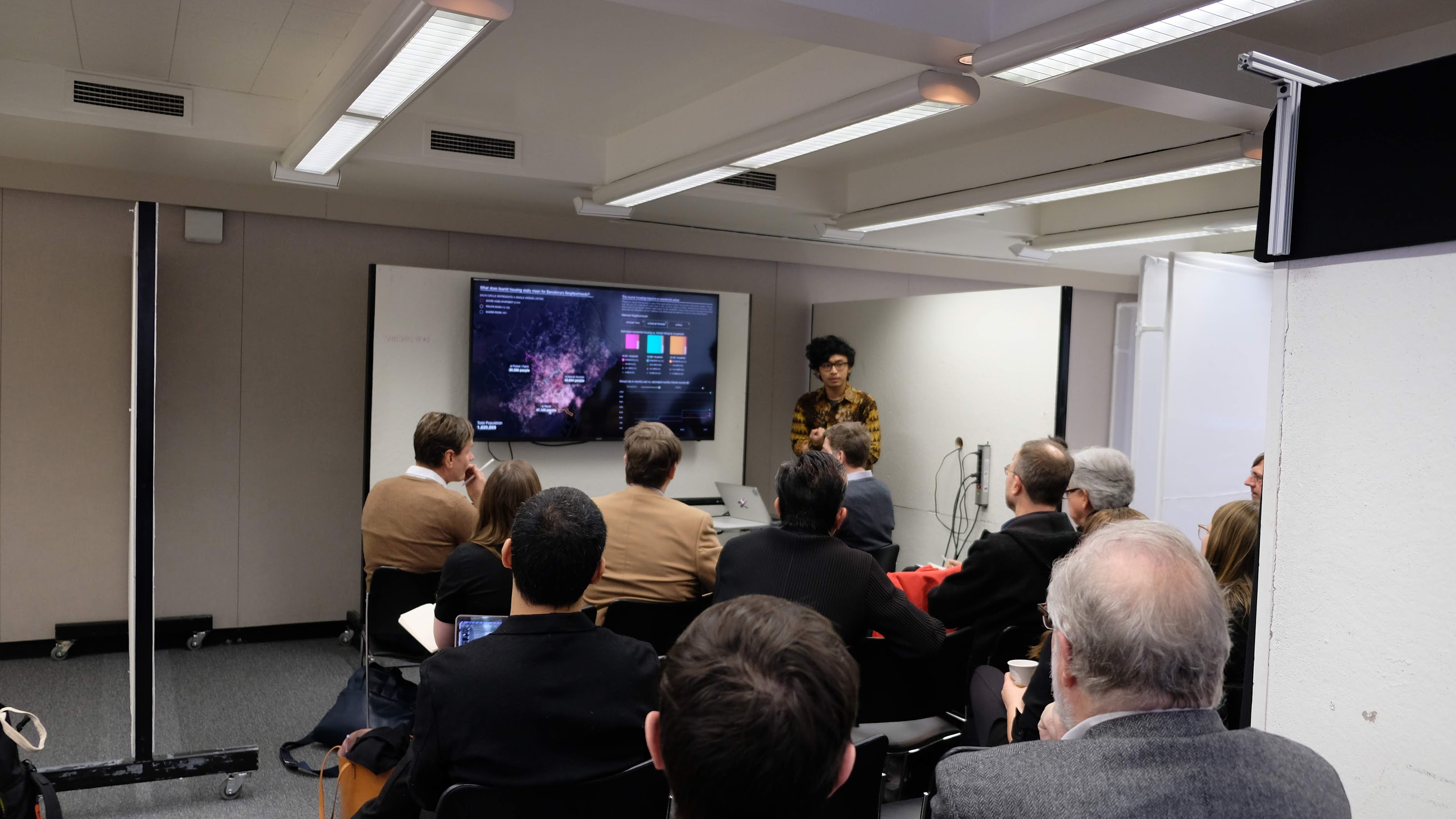 Summary
We are getting more mobile than before. Cheap flights and readily accessible information from our fingertips make up a bold generation who's ready to go global. People from all around the world travels and stays in the city from days to months, all year long for tourism. Barcelona, for example, is one of the top countries known for tourism as one of the major driving forces of economy. However, seems like local people are fed up with tourists as they see it detrimental to the local environment. We can see rise in a number of protests and the "Tourist go home" movement sprawls.

One way to analyze this situation is to see how tourist housing like Airbnb really impacts the life of the local residents. These data around housing and spatial territories are interesting since it reflects one of the essential elements to live in urban environment. In the future, for whom the city is designed for? temporary tourist or permanent residents?
Project for

Master in Design Engineering Collaborative Design Engineering Studio I
Featured in
Harvard Graduate School of Design Core Studio Fall 2018 Final Review

Student project wall - an exhibition at Harvard GSD
Graffiti at Park Güell in Barcelona reflects local feelings about the overwhelming number of tourists in the city. Photograph: Josep Lago/AFP/Getty Images
Source: The Guardian.
link
Background
I was fascinated by how contrast tourism is. Essentially, it's a massive mobility of people from all over the world in a relatively short period of time that has long term impacts to the affected areas. Tourism has been around for a while, but with the rise of disruptive technologies like airbnb and lower travel prices makes it far more accessible and affordable, not to mention the motivations that makes people travel more from social media and modern lifestyle.

Problem framing

The research purpose was to identify whether there is some connections between trends in Barcelona's housing trends and the airbnb locations that are spread throughout the entire city, and try to make sense on what's going on using data visualization techniques. Since this was a large and systemic issue to address, The tool was aimed to be used by the decision makers that has the power to truly act on a high level, such as government and policy makers.
Data sets
For this project to achieve such purpose, there is a need to collect the data from an urban standpoint. Throughout the research phase, there are two data sets that was captured and used in this project:

1. Housing & Territorial data from Barcelona's Opendata Initiative
The Barcelona administrations are highly supportive with open data. The initiative, which was inaugurated in 2011 is called Open Data BCN, put a statement "To release data of public interest so citizens can make use of it". Since then, they have released a remarkable amount of data, which was catalogued under: territory, population, urban environment, administration, economy and business.

2. Inside Airbnb Project by Murray Cox
Airbnb never released their listing data for obvious reason: essentially its their customer's business. However, there is a "rogue" project by internet activist Murray Cox on which he somehow got into Airbnb database and released the data for airbnb listings in world's most popular tourism destinations.
Parameters
After some research, trials, & iterations, I decided to go with these parameters to visualize:


Housing data: Population, Residential units, Rent prices over time (trends)

Airbnb data: Geospatial location, units, types, pricing.
Data processing
In order to visualize and compare those data, I did some cleanup, processed the raw data into an aggregations, made models, and put clear assumptions onto it.



Barcelona Airbnb listing, visualized using heatmap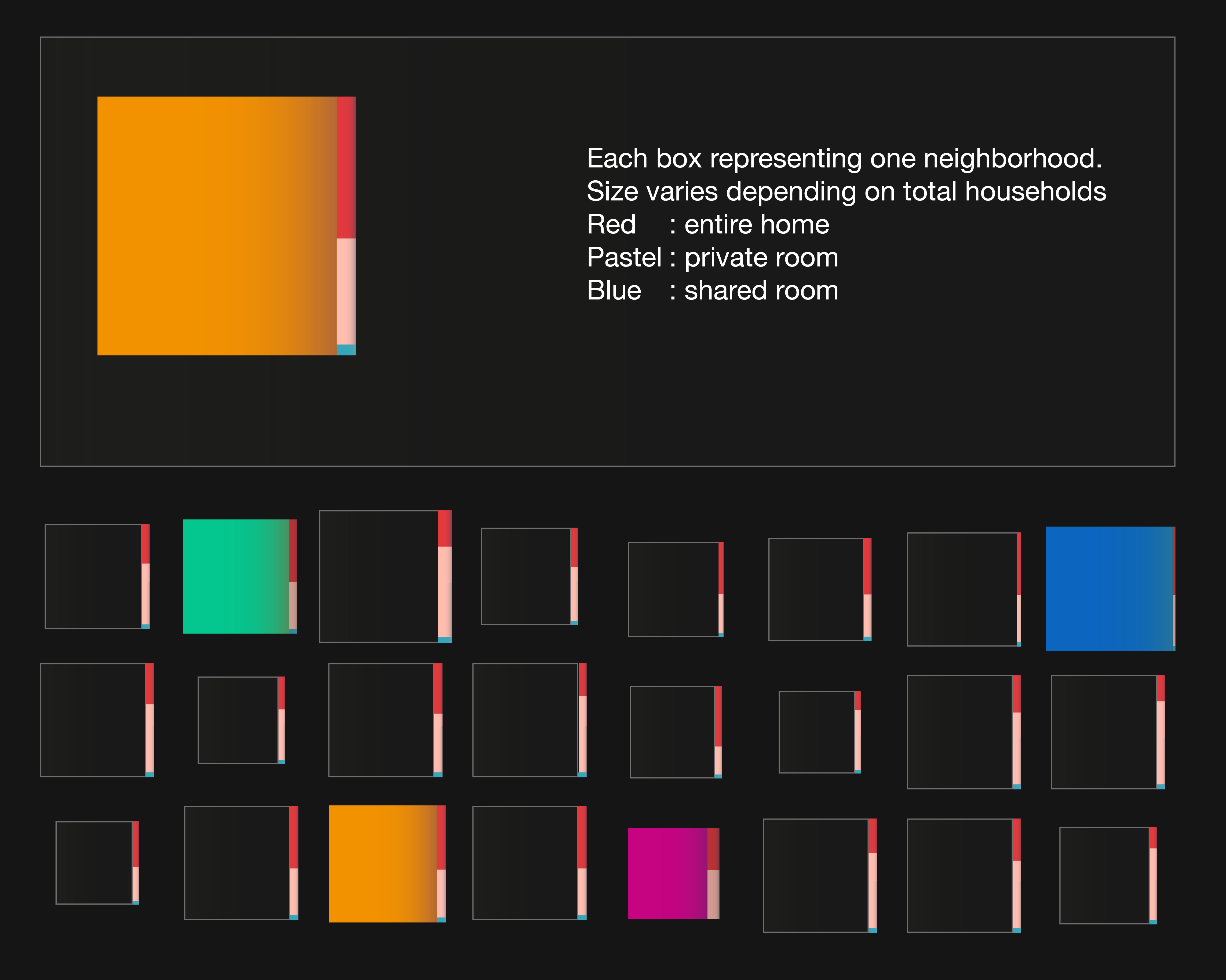 Residential household vs Airbnb treemap, based on neighborhood
Recent housing market trends vs Airbnb projected income
Design
As the second most populous city in Spain, Barcelona has 10 administrative districts, with a total of 73 neighborhoods. Since it is a massive housing area and the visualization has to incorporate all of different elements to help the user understands, using a map to reflect the spatial and geolocation data seems to make

Heatmap
To evoke the viewer about where are the most "touristy" area based on the Airbnb locations available, I went with a heatmap approach and chose contrasting colors for each type of Airbnb listing. The main highlight from the dataset is the "entire home" listing, since it indicates the building is intended for short-term rental and not for residential housing.

Neighborhoods selector
Since the tool is aimed to be used by high level decision makers, It was necessary to enable the select the relevant ones so the user could see how each neighborhood differs and how they are shaped over time, which also available from the raw data.
Residential household vs Airbnb
To provoke conversations around how much space Airbnb actually is using in the city, and are they really "taking over" the city just like the protestors said, I made a rectangular visualization using treemap technique. In this way, the user could see the tourist housing percentage in a glance for each neighborhood.

Rent prices vs Airbnb projected income
Understanding the relationship between long term contracts and Airbnb deals that are happening in the neighborhood is essential. Using data, with machine learning and statistical analysis we could model the projected income for property owners in whichever way they are choosing their business, and find alarming threats for the urban environment if the market is heavily disrupted.

Output