Satellite-based Vessel Monitoring System for Indonesia fisheries and communities
Design research, Strategy, Ethnography, Field work, User testing, Workshops, Social impact, Sustainable development, Fishery
The service: satellite-based VMS system orchestration.
Source:
Inmarsat
Summary
Researched foundational design principles and rapidly prototyped new ideas and solutions to design satellite-based Vessel Monitoring System (VMS) services for Indonesia's $20 billion+ fishery sector, increasing safety at sea, combat illegal fishing and promoting sustainable practice.
Team

Ravi Chhaptar (Project director)
Markus Boelter (Co-lead)
Chum Wong (Co-lead)
Daniel Watson (Designer)
Delia Di Filippantonio (Designer)
Citra Pramana (Design researcher)
Hanif Wicaksono (Design researcher)

Project for

Dalberg Design, Satellite Applications Catapult, Inmarsat, UK Space Agency, Indonesia Ministry of Fisheries
Press / Reports
Research locations, plan, and goals. Throughout two fieldwork phases, 70++ interviews has been done to multiple profiles around Indonesia's fishing ecosystem, with focus on selected topics and areas of interests. We also identified who are those people and what role do they play at the systems level.
Background: problems in Indonesia waters

In Indonesia, estimated economic losses of up to US$3 billion a year are attributed to illegal, unreported, and unregulated fishing. With nearly 55,000 km of coastline, it is extremely costly to control vessel movements in Indonesian waters. This project is designed to test the benefits and challenges of expanding the use of satellite-based VMS to vessels currently not required to carry such systems (i.e. vessels under 30 gross tonnage (GT)).

Formed from thousands of large and small islands thus made it an archipelago country, Indonesia is a country filled with enormous aquatic resources. The Indonesian fisheries sector proliferated since 2015 under the direction of the government's renewed focus on Indonesia's competitive advantages within maritime industries, along with improved law enforcement against illegal fishing.


Big picture: Sustainable fishing in Indonesia

The overall project goal is to improve the policing of illegal fishing and conservation areas and move the industry towards a more sustainable and profitable path.

As a design researcher, my main objective was understanding the behaviors and identify the underlying, hidden needs of the people within the fishing ecosystem.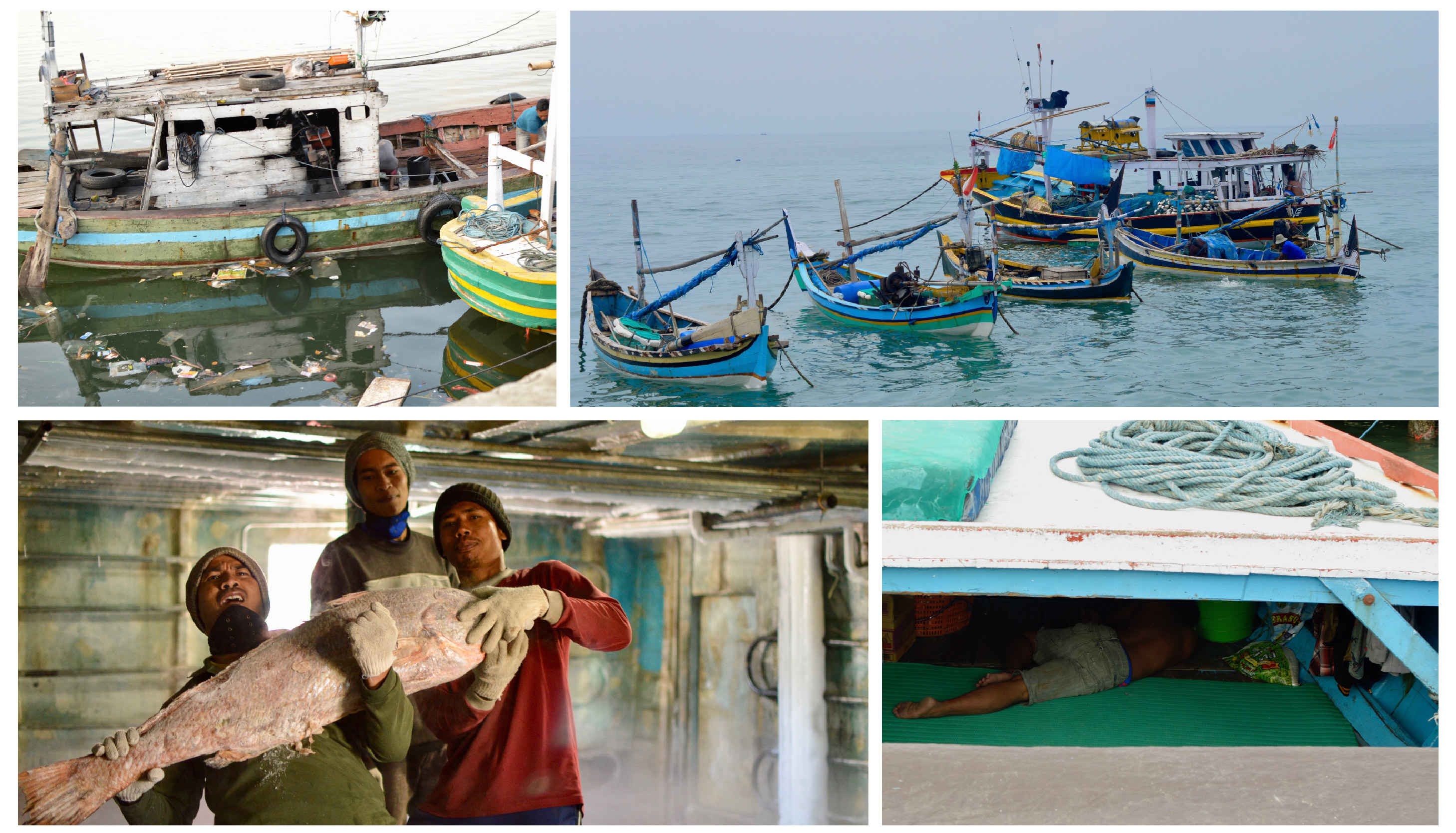 Some of the snapshots of Indonesia's fishing ecosystem.
In-depth and intercept interviews, card sorting, focus group discussions.
Field research

To gather insights and uncover the needs, the team did not recruit any participants prior. Instead, we just showed up in the harbor and having in-depth talks with local fishers who are hanging out there. We wanted to see where the problems are, in their natural element. As the native member, I also helped with logistics, local context, and translations to the international team.

Stakeholders interfaced: fishermen, families, fishing businesses, middleman, government officials, companies, NGOs, and others.


Research techniques

Various methods were used in fieldwork. Most of the time I started the conversation with general questions regarding participant's daily basis before talking about in-depth topics, implicitly digging for aspirations and motivations, while also empathizing and analysing their environmental habits. I used different approaches depending on the participant's profile and their level of education. In the second trip we tested ideas with card sorting to articulate rough concepts help imagining the scenarios of certain features in their natural environments.

Stakeholder workshop with government officials, clients, and organizations involved.
Synthesize and idea generation

We started our synthesis progress by sorting out and recalling the insights from our notebooks, recordings, pictures, making phone calls to previous participants for confirmations, and any other touchpoints that could help us determine and confirm the insights & needs that was in our guts using post-it notes and discussions. After the findings are grasped, we prepared for the next step of the project which is the readout and workshop.

I was responsible for developing all the design and logistics for the workshop activities. At the end of each research phases, there was a co-creation workshop to collaboratively explore what a minimal viable product (MVP) for the VMS could look.

MVP describes the minimum set of features that meet the most critical needs of all users (particularly initial users) that is feasible and viable to deliver. The workshop participants included key people from various companies involved in the project, Indonesian government officials, and NGOs in maritime and fishing industry.
Value proposition.
Full public report by Inmarsat & Space for development available here
Key findings
From our first round of Human-Centred Design fieldwork, we have developed insights from our interventions to enable a transition to sustainable practices, grounded in from our work with fishery communities. We distilled five opportunity areas we see as critical to enhance their daily practices and benefits.
Design opportunity areas
1) Enhanced communication: Is there an opportunity to enable direct, private, and fluid communication across the fishing ecosystem?

2) Emergency communication: Is there an opportunity to position VMS as the trusted first point of contact for safety issues and emergencies?

3) Simplified compliance: Is there an opportunity to streamline administration and regulatory processes?

4) Financial visibility: Is there an opportunity to provide financial visibility to fishers?

5) Emotional wellbeing: Is there an opportunity to create a more satisfying, enjoyable, and personalised experience at sea?

Systems map
We also developed two visual keys that help visualizing the ecosystem of fisheries in Indonesia:
1) Relationship map: portrays the interactions between roles in Indonesia fisheries, divided into formal relations, personal-trust relations, and a mix of both.


2) Communications map: portrays what, how, and why certain kinds of informations needs to be passed from one to another in the fishing industry.

Prioritized features set & persona
These concepts from the workshop have been refined and prioritized, and acted as an input to generate a set of 20++ features grouped into four focus areas. In the second round, we visited Bali and Probolinggo again to further gather user feedback on the initial prioritized MVP and focus areas, along with the archetypal users, presented as personas.
Gallery